Staying Safe This Summer
Barbeque fire safety tips for the Summer from Element PFP. It sits at the back of the garden, the shed, or the garage for what feels like most of the year – the humble barbeque.
As the weather finally improves and the Queen's Jubilee celebrations kick into full swing, millions of us will be lighting our barbeque. It brings people together, making good times and great memories no matter the occasion.
However, the risk of fire when lighting a barbeque in your garden is immense and often taken for granted. No matter how confident and experienced a grill master you are, there are simple yet important safety measures to be mindful of.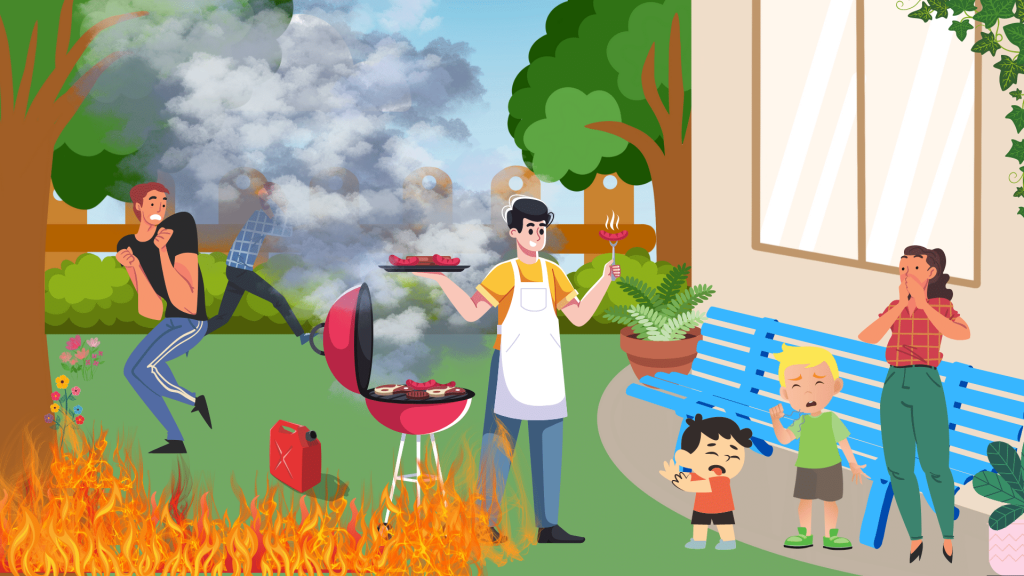 What are the Fire Risks at Barbeques?
It goes without saying that each year fire and rescue services are called to fires as a result of mishandled barbeques. Whether in a private garden or public space, gas, charcoal or disposal barbeques pose a great risk to health and safety.
Fire
Particularly in warm, dry conditions, fires can start as a result of a barbeque and spread very quickly. Flammable liquids such as paraffin and petrol are often used to start a barbeque and rarely moved to a safe distance or in a cool place.
Smoke
Fumes given off by barbeques can last for several hours, containing carbon monoxide which is extremely hazardous to health. Carbon monoxide has no smell or taste and doesn't give off immediate symptoms of poisoning.
According to the NHS, these are the potential symptoms if large quantities of carbon monoxide are inhaled:
A tension-type headache is the most common symptom of mild carbon monoxide poisoning.
Other symptoms include:
feeling and being sick
tiredness and confusion
stomach pain
shortness of breath and difficulty breathing
If you think you or anyone else has been exposed to carbon monoxide and is experiencing any of the above symptoms, you should seek medical advice immediately.
Ways to prevent the inhalation of carbon monoxide after a barbeque are to keep your barbeque in a well-ventilated area and to move it far from people and animals once it is extinguished.
Burns
Even hours after your barbeque has gone out, it can remain hot enough to cause burns to people and animals. You can easily mitigate this risk by using appropriate equipment when using it or touching it.
Using long-handled tongs, aprons and skewers means you only get as close to your barbeque as you need to.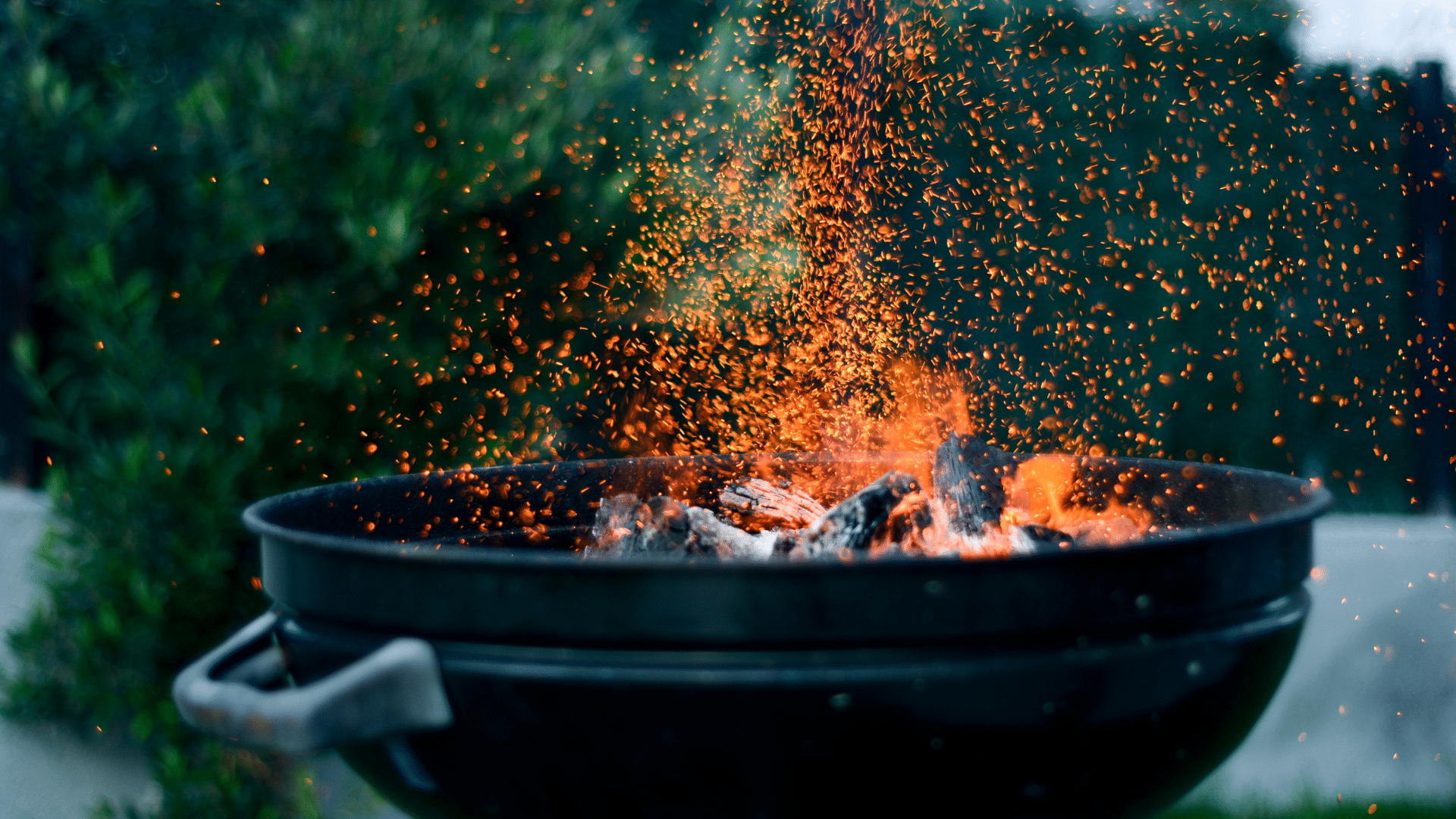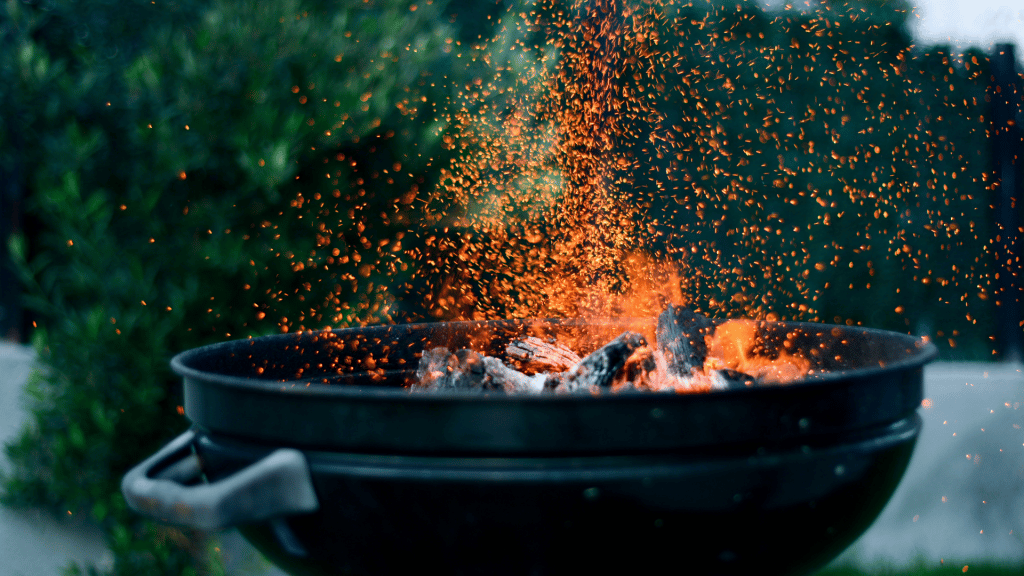 Barbeque Fire Safety Tips
Element Passive Fire Protection has compiled a list of easy to follow fire barbeque safety tips; helping you avoid injuries or damage to property:
Keep children, garden games and pets well away from the cooking area
Never leave the BBQ unattended
Ensure the BBQ is on a flat site, well away from a shed, trees or shrubs
Keep a bucket of water or sand nearby for emergencies
Ensure the BBQ is cool before attempting to move it
Charcoal Barbecues
Use only enough charcoal to cover the base to a depth of about 50mm (2 inches).
Only use recognised fire lighters or starter fuel and only on cold coals – use the minimum necessary and never use petrol.
Never put hot ashes straight into a dustbin or wheelie bin – they could melt the plastic and cause a fire.
Gas Barbecues
Make sure the tap is turned off before changing the gas cylinder
Change cylinders outdoors if possible or in a well-ventilated area
If you suspect a leak to the cylinder or pipework, brush soapy water around the joints and watch for bubbles – tighten to fix but do not overtighten
After cooking, turn off the gas cylinder before turning it off at the controls to ensure any residual gas in the pipe work is used up
Disposable Barbecues
If you do use a disposable barbecue:
It is imperative that they are placed on an even surface on either brick or paving slabs.
Place disposable BBQs well away from the house, shed or fences.
Do not use disposable barbecues near or on public benches.
If you're using a disposable BBQ ensure it has cooled before putting it in the bin. To avoid starting a fire you should allow it to cool for several hours and then consider pouring water over it to make sure it's out.
No matter how or where you have your barbeque, be prepared, be safe and have fun this Summer!
These are just a few methods of actively preventing fire on your premises, however for all passive fire prevention services such as risk assessment, fire door installation and building certification, Element PFP here.